Martin-Baker Aircraft, Uxbridge(GB)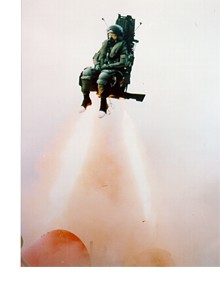 Rocket powered prototypes!

There are two key reasons for shortening the lead time for new projects, according to a unique supplier to the aerospace industry. First, to capture new markets as they become available and second, to reduce costs. The cost of a project, this company believes, is normally proportional to the length of the development period.
The company is Martin-Baker Aircraft, which designs and manufactures aircraft ejection seats, and which recently installed a "3-D printer", Actua 2100, to play a key role in the reduction of lead time and development costs.
The range of seats produced at the company's headquarters near Uxbridge, Middlesex, England, spans those fitted to the simplest turbo-prop trainer aircraft to the newest design now flying in the Eurofighter and soon to be fitted to the Joint Strike Fighter. The latter's seats are highly sophisticated and incorporate microprocessor-controlled electronic sequencers and continuous sensing equipment which is the most advanced of its type in the world.
Around 10% of the ejection seats produced by the company will be used in an emergency situation and to date Martin-Baker seats have saved the lives of 6,631 aircrew. The company, which has an annual turnover of £65 million and a market share of 65% of the western world, supplies 90 of the world's military air forces.
All design and production design is carried out in-house by a 25-strong department led by Chief Draftsman, Peter Winwright. There are currently 12 Unigraphics stations with another 10 on order to replace the existing Medusa stations.
Peter Winwright explains the rationale behind the purchase of Actua. "Our designers are inventors," he explains, "and they like to be able to handle and examine what they have designed. It's all very well evaluating a design on paper or on screen, but it can't compare to holding the tactile model in your hand. Subsequently we were spending a lot on proof of concept models, normally one-offs machined in aluminum by our own machine shop or, if they were busy, a local sub-contractor."
Since Actua has been installed, the design team doesn't even need to produce a drawing as it takes the electronic geometry directly from the Unigraphics system and builds an exact reproduction in plastic. Located in a small office within the design department, the Unigraphics station users have direct access to it and it's in use constantly. Peter Winwright estimates a simple component, such as a small handle, costs just £3-£4 to make compared to a machined cost of around £150. Such a component would normally take only a few hours to build. When a more complex model is required, Actua is normally left to build it over the weekend.
The Actua 2100 is the size of a large office photocopier and operates as a network peripheral to the workstations. The thermopolymer modelling material is contained in a sealed cartridge, similar to a toner cartridge and is just as simple to replace. Actua's technology is based on that of an ink jet printer. Each of the head's 96 jets is activated by an electronic signal, which releases the thermopolymer on demand. The print head speeds back and forth, building up layers of the thermopolymer material, which solidifies to form the physical part.
Key parts of a modern ejection seat include the remote rocket firing unit, harness release system, barostatic time release unit, the drogue/parachute pack, survival pack, seat mounted oxygen system and automatic life-raft inflation unit. The complete seat comprises around 2,000 components. New or revised designs for any of these can now be produced quickly and accurately on Actua allowing the team to review and test and most important of all, to identify changes needed at the earliest design stages. Even in such a specialist market, price plays a crucial factor in winning new business and the savings made at these early stages are making a key contribution to Martin-Baker's ability to remain competitive.