Martin Marietta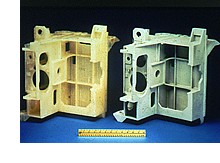 Martin Marietta uses stereolithography and QuickCast to save $78,000 and slash lead times by two-thirds on a large precision optical bed for their Stingray program.

"With stereolithography models, Martin Marietta reduced procurement time on Stingray optical bed castings from 36 weeks to 12 weeks. "

The Challenge
When the deadlines on the development of a precision optical bed for their Stingray program were pulled in, Martin Marietta knew that they could not rely on conventional methods to meet the new schedule. If the project was not delivered by the new date, they faced stiff penalties -- and the stigma of a late project in an increasingly competitive defense market.

Martin Marietta needed a process that could produce large aluminum castings (16" x 17" x 18") for the optical bed quickly and accurately. With a lead time of 36 weeks and a cost of $250,000, the traditional process was both too slow and too expensive. Moreover, with design changes probable, there was a high risk of having to rework or scrap the tooling entirely. Clearly, a rapid prototyping technology able to meet the rigors of dimension, accuracy, and casting compatibility was their only alternative.
The Results
Martin Marietta relied on stereolithography and QuickCast to produce the precision castings. Using the Technology Center at 3D Systems, castings were obtained in 12 weeks at a cost of $172,000, a savings of 24 weeks and $78,000 over conventional methods.

But for Martin Marietta, this was only the beginning. Cost comparisons between rapid prototyping service bureaus (such as the Technology Center) and on-site rapid prototyping demonstrated that additional savings, in costs and time, could be realized if parts were built in-house. And, as Martin Marietta knows, cycle reduction and cost savings are the hallmarks of survival in the diminishing defense market.

The bottom line? Through this and similar future projects, Martin Marietta justified the purchase of an SLA 500, which is currently running 24 hours a day, 7 days a week, to keep up with demand.

At Martin Marietta, in-house SL gives them the ability to:
Build hardware mock-ups for design reviews and engineering evaluation
Reduce the risk of design errors that might lead to schedule delays
Identify and correct tooling problems before costly hard tools are built
Cut costs and reduce cycle times of their programs dramatically
The Process
The design for the Stingray optical bed was created using the Catia 3-D CAD program and the Catia .STL converter. The optical bed design was first iterated and verified at Martin Marietta's Rapid Prototype Laboratory under the direction of Tony Corpuz. The Rapid Prototype Laboratory, however, could not build full-size QuickCast patterns on their SLA 250, so Tony turned to the Technology Center at 3D Systems.

The Tech Center used Martin Marietta's .STL files to build 6 large (16" x 17" x 18") QuickCast stereolithography patterns on an SLA 500. These patterns were sent to Cercast, an investment casting foundry located in Montreal, Quebec. Cercast used the QuickCast patterns to cast the optical bed in aluminum alloy.

Martin Marietta was able to use the QuickCast aluminum castings for evaluation of the optical bed design, cutting $78,000 and 24 weeks from their design cycle for the Stingray program.

The Tools
SLA 500 with Cibatool SL 5180 resin
CATIA 3-D CAD program
QuickCast software release 1.0

Company Profile
In the post-cold war era, Martin Marietta remains committed to expanding their share of the defense market. To this end, Martin Marietta is playing an active role in industry consolidation: their recent acquisitions of GE Aerospace and General Dynamics Space Launch Systems expand their areas of technological leadership and extend their range of technology-intensive products and services.

The aerospace giant further sustains its commitment to industry leadership by investing in advanced technologies such as stereolithography. Their recently acquired SLA 500 complements the SLA 250 installed in 1991, expanding the Rapid Prototype Laboratory's capability to fully support the design needs of the Martin Marietta Corporation.

Martin Marietta's strategy for growth in a declining market is paying off. Martin Marietta currently wins more than 50% of the defense and civil contracts for which they compete -- about twice the industry average.