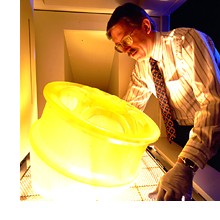 The fastest route from concept to reality.
Are time-to-market and cost savings important to you?
Do you agree that mistakes found sooner versus later in the design process avoids unnecessary cost?
Do you believe that a clear, concise and physical concept model would eliminate miscommunications and costly re-design?
If you've answered yes to any of these questions, 3D Systems is the right rapid prototyping company for you!
3D Systems, the world leader in solid imaging, can turn your design concepts into reality -- easily, quickly and accurately. Our state-of-the-art solid imaging products, the ThermoJet and SLA, our 3D Keltool production tooling technology, and leading-edge 3D Lightyear software -- along with our world-class service portfolio -- can help you maintain your competitive edge!